So here we are.. the beginning of the end. Let's waste NO TIME and get to this
second
last part of the
30 Question Horror Lover Challenge.
So for this part I get to do Questions #21 to #25 before the grand finale which will be coming out shortly after this post!
———————————————————————————–
21) BEST FAMILY IN HORROR
;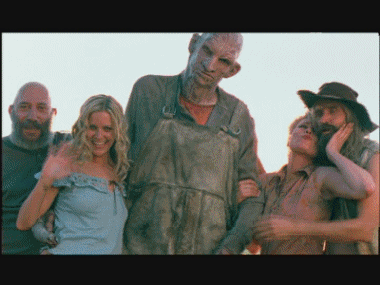 [rest in peace, Matthew McGrory - who played Tiny. as seen in the middle of the photo above.]
The Firefly Family - House Of 1000 Corpses & The Devil's Rejects.
I [naturally] had to choose the Fireflys just because of their nature. I mean, sure they're sick, crazy, and disturbed- but I find that makes them all the more lovable.. I suppose it doesn't help that I actually really enjoyed both The Devil's Rejects & House Of 1000 Corpses films.
———————————————————————————–
22) WORST RECENT HORROR MOVIE YOU'VE SEEN;
A Nightmare On Elm Street [remake] - 2010
I've said it before, and I'm going to say it again. I absolutely love the original NOES films! [the complete box-set I own is one of my more prized possessions] however, upon seeing this remake, I felt disgusted with the idea that I was actually watching this. I wasn't fond of this remake at all. Freddy was so different that it wasn't fun anymore- more sickening. It also didn't help that Freddy looked like a slippery fish out of water. [NOTE; I really like Jackie Earl Haley as an actor- he was FANTASTIC in Watchmen, but I wasn't happy with his rendition of one of my favorite horror characters.]
———————————————————————————–
23) FAVORITE 1970'S HORROR;
HALLOWEEN - 1978
This one is just obvious as to why I chose it. It's a classic, it's fucking Michael Myers and it's just an all around fun horror flick to watch, every time. 10 / 10. easily.
———————————————————————————–
24) FAVORITE HORROR THEME SONG;
SAW series- Charlie Clouser's "Hello Zepp.." [click here for Youtube link]
I feel that this song [instrumental] captures the creepiness and the atmosphere of SAW perfectly. Especially considering near the end, it intensifies to the point of feeling like something is getting closer to your face!
———————————————————————————–
25) BEST VERSION OF JASON VOORHEES;
Friday The 13th Part VII: The New Blood.
I think I preferred this version of Jason specifically because of his looks.. It's when he's FINALLY starting to wither away [I mean, the guy doesn't really die if you think about it..] and possibly stay dead. The only complaint I have is he's brought back to life [siiiigh..] by a psychic little girl who's trying to bring her dead father back to the land of the living! Little bit of a stretch, isn't it?
———————————————————————————–
Hard to believe I'm going to be done this list in the post! Please be aware that this part WAS supposed to be done [and posted] yesterday but something came up, and I had only enough time to finish half. GRAND FINALE [part 6 out of 6] IS GOING TO BE TYPED AND POSTED in about an hour! Stay Classy Everyone!