Holy wow.. We are already at part 4 [out of 6] of the 'horror lover challenge' and I'm finding out pretty fast that some of these questions can be challenging! [but- I suppose that's the point.] Feel free to follow along with the question list, which I have re-posted down below.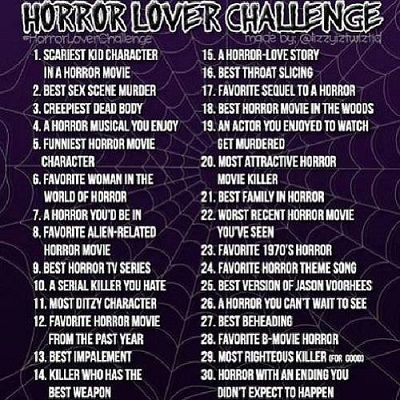 Getting closer and closer to the end of the list..
———————————————————————————–
16) BEST THROAT SLICING;
Sweeney Todd: The Demon Barber Of Fleet Street.
Like I mentioned in one of last posts, I actually liked
Sweeney Todd
as a film-
[although I think this is a bias opinion, being a big Tim Burton/Johnny Depp fan and all..]
However, this isn't the
exact
throat slicing I was thinking of.. but I suppose it'll have to do.
[they're all good- more specifically; the final one at the end.]
———————————————————————————–
17) FAVORITE SEQUEL TO A HORROR;
Evil Dead II: Dead By Dawn.
I've said it before, and I'll say it again. I
love
the original
Evil Dead
trilogy, and
Evil Dead II
is no exception. Especially because it can technically be classified as a remake of the first with a cleaner story being told, more of a budget to work with, and Ash being pretty damn bad-ass.
———————————————————————————–
18) BEST HORROR MOVIE IN THE WOODS;
The Cabin In The Woods.
When I first watched this movie, I didn't overly understand what was happening. I understood the idea, and I caught onto all the cliches from other horrors [a few from 'Evil Dead' impressed me.], but that's all I got. It wasn't until the second time watching, that I realized how smart the film is as a whole; and how fantastic the world Joss Whedon had created in The Cabin In The Woods truly is.

———————————————————————————–
19) AN ACTOR YOU ENJOYED TO WATCH GET MURDERED;
Johnny Depp - A Nightmare On Elm Street.
there I go, fan-girling [I'm pretty sure that 'fan-boying' isn't an actual term..] over Johnny Depp. Although I love him, he had to die sometime in his feature film. I enjoyed his scene[s] in ANOES, especially his death scene because it was so much different than Freddy's other kills. [creative- yet enjoyable to see on screen] Protip- if you haven't seen the movie, he basically gets dragged into his bed and get spurted out like a fountain of blood.. good stuff, Wes Craven!
———————————————————————————–
20) MOST ATTRACTIVE HORROR MOVIE KILLER;
Mrs. Bathory - Hostel: Part II.
Although she's technically only really around for about a 5 minute scene, this one scene in which Mrs. Bathory is in, is quite the visual experience. I won't ruin it, but I will say that I am usually perfectly fine with seeing people being tortured in horror films, but nothing amounts to how much I felt the need to cringe while watching her 'bloodbath' of a scene. [on the plus side, you get full frontal nudity from the actress!]
———————————————————————————–
It seems we're being to come close to the end of the 30 question challenge. With another 5 questions down, we only have 2 more parts until all 30 are answered. Join me in the next post for part 5; which will answer questions 21 to 25.