I'm going to make this opening as short and sweet as possible so I'm just gonna get to the point. I promised, so I am going to have to continue
my
version of
The 30 Question "HORROR LOVER CHALLENGE"
written and created by none other than
LiZZYizTWIZTid
!
If you missed part 1, you can read it
here
, so without further delay,
let's get down to part 2
[out of 6]
!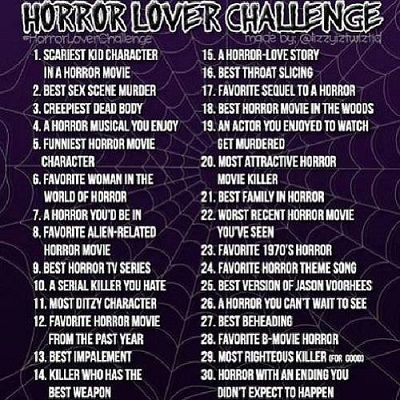 [I also re-posted the list of questions above, in case you missed it before]
———————————————————————————–
6) FAVORITE WOMAN IN THE WORLD OF HORROR;
Danielle Harris - Hatchet II, Hatchet III. [Also, Elvira.]
This lovely lady gets my praise
because
of
Hatchet II.
[I haven't seen Hatchet III yet..]
She's extremely cute, she's funny, and most of all- she's pretty damn bad-ass.. I mean, she goes after
VICTOR CROWLEY
for crying out loud! that's tougher than I'll ever be.
Elvira
makes this list because
obviously
you can't mention horror women and
not
mention her. She will
always
be near the top of the list.
———————————————————————————–
7) A HORROR YOU'D BE IN;
STAY ALIVE.
I feel that this one goes without saying. As most people know, I love playing video games [I've been playing them since I was a kid, and still have the infatuation of a Nintendo controller in my hands]. In the movie, the main group of friends get together when a [very] underground game is released to a few people and a guy dies in the same fashion he did in the game he was playing last.. that game? STAY ALIVE! [I felt that it was one of those movies that was good but could have been so much more. agree? disagree?]

———————————————————————————–
8) FAVORITE ALIEN-RELATED HORROR MOVIE;
John Carpenter's THE THING.
Is there really a choice in the matter? This will always be my favorite alien horror flick- Alien [and all it's sequels] was good, but I often turn to The Thing if I want true alien horror fun.
———————————————————————————–
9) BEST HORROR TV SERIES;
American Horror Story.
I've ranted about this show on and on and on.. SO WATCH IT! Especially the eeriness that was the second season [American Horror Story; Asylum]. Though, I stand with the first season being the best- just because that's what lured me into the fucked up world of Ryan Murphy. [the creator of American Horror Story- who oddly enough is the co-creator of Glee? DON'T LET THAT THROW YOU OFF FROM WATCHING!]
———————————————————————————–
10) A SERIAL KILLER YOU HATE;
John Wayne Gacy.
Now I'm not saying I like all other serial killers- they are bad, and 'bad' is a terrible word to use because they are so so so much more than that- but I do find them fascinating to read about and the way they think. [can you tell I was in school for psychology for 2 years?] The one I dislike the most however is the man above- I won't go into detail [Google it if you want- I'll leave that to you.] but it doesn't help that he'd dress as a clown; considering my fear of them.. ugh.
———————————————————————————–
So there you have it- another 5 questions down. I'm actually really enjoying myself doing these; So I may have to find other 'challenges' to follow. [maybe not as long as 30 questions next time..] Join me in the next post for part 3; which will answer questions 11 to 15.