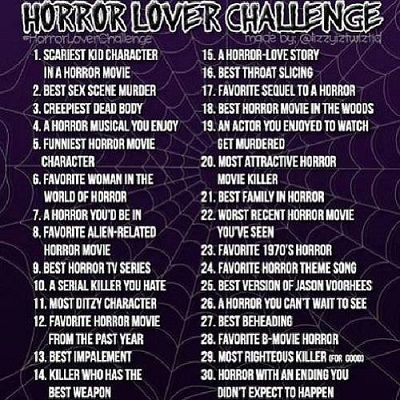 Inspired by none other than
FreddyInSpace
, I figured I should throw my own little spin on
@LiZZYizTWIZTid
's horror lover challenge list.
I assumed if I did this, I'd get to put perspective on my thoughts of horror in general, and it would show my love for the genre. Also, because there is a whopping 30 questions, and I
really
don't want a big list going on for an eternity
[all in one big post]
, I'm going to do this in six parts- 5 answers per post.
SO WITHOUT FURTHER HESITATION, LET'S GET TO IT!
1) SCARIEST KID CHARACTER IN A HORROR MOVIE;
Barto - The Unborn.
I remember when I first watched
The Unborn
and as soon as this guy shows up, I couldn't look away. Something about the way he looks with those icy blue eyes, and clearly noticeable veins sets me on edge..fucking creepy, almost reminds me of
Ramon Salazar
in
Resident Evil 4
[the game]
!
———————————————————————————–
2) BEST SEX SCENE MURDER;
Patrick Bateman & the girls- American Psycho.
The chainsaw scene is one of the best scenes in the entire film, if you were to pick just one. [I also like the 'Try and get a reservation at Dorsia now!' line] I mean, as we see Patrick Bateman becoming more & more crazy, we get this change in scenery from sexy to sadistic. First the viewer gets to try to figure out what is going on under those bedroom sheets, [some kind of threesome, perhaps?] and then suddenly, out comes the chainsaw. He then drops the damn chainsaw [while it's running, mind you] and then the grand finale. It's perfectly disgusting with the just the right mix of disturbing..
———————————————————————————–
3) CREEPIEST DEAD BODY;
Dead girl in closet - The Ring.
I think I speak for all of us, when I mention
THIS
body from
The Ring
. Every time I see this movie, I feel uneasy just staring at this young girl- in a school uniform- just glaring at me with those dead eyes.. creepy
———————————————————————————–
4) A HORROR MUSICAL YOU ENJOY;
Repo: The Genetic Opera. [also- Sweeney Todd: The Demon Barber Of Fleet Street]
I don't know why this movie got such hate from horror fans. I actually found myself to really enjoy it with it's quirky atmosphere and songs. I'm usually not one for musicals, but the songs kept the story in line; and ultimately had me more intrigued.. As for Sweeney Todd however, that gets mentioned as well because I'm a huge Tim Burton fan, and being as it was set in Victorian London, it won me over almost instantly.
———————————————————————————–
5) FUNNIEST HORROR MOVIE CHARACTER;
Captain Spaulding - House Of 1000 Corpses & The Devil's Rejects.
Call me terrible, or even creepy [especially since I have a fear of clowns]- but Captain Spaulding is one character who makes me laugh, even at times when you're not really supposed to ["Come on kid, don'tcha like clowns? Don't we make ya fuckin' laugh?!" - House Of 1000 Corpses.] Doesn't matter what way you look at it- although he's batshit crazy- Spaulding is a fun character to watch be played out in both House Of 1000 Corpses and The Devil's Rejects.
———————————————————————————–
and there you have it. My first 5 answers to the 30 Question Horror Lover Challenge. Join me tomorrow for my part 2; which will answer questions 6 to 10.